A friend sent us the following announcement, and we are glad to publish it.
Unfortunately the website and the game are in Italian only, but the English versions of both will be available in the next months.
On the website, don't miss the "Story" section, which goes back over the story of adventure games, showing the look that "La Terribile Minaccia…" would have had in the past!
Keep up the good work guys!
genereAvventura: "The Terrific Menace of the Invaders from Audiogalaxy" is out!
Having spent more than 3 years dedicating our free time to make this game, we proudly present version 1.0, which you can play directly on website www.genereAvventura.com.
General description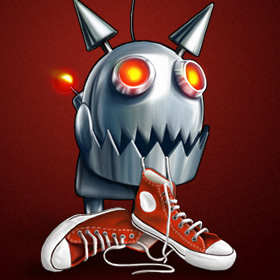 "The Terrific Menace of the Invaders from Audiogalaxy" (TTM, to take it briefly) is a project who has the purpose of achieving a game in Flash, playable directly via web, absolutely free.
It is supposed to have, above all, a complexity and longevity like those games that had named this genre. The authors, who loved this kind of games, wanted to pay homage to these masterpieces, by creating an original and indipendent story. Anyway - through the game - it mentions several times all those games that had inspired it.
After a first period of break, due to some members' personal problems and because of the complexity of creating such a game, our team came back in action, re-thinking about the purposes and the specifications of the game; for example the first things we had to eliminate was the possibility of solving some parts of the game without noticing; in genereAvventura everything had to have a cause and a consequence.
The story
The "hero" of the story is an "average boy of a near future", who is forced to be involved with the plans of taking over the world by a group of aliens: he - the player - will have to find out how to save the world by thwarting the aliens' plan. It's in fact like a classical sci-fi movie or a japanese cartoon.
The game has a musical setting that will cover the main points of the history of music of the last decades.
Technical part
TTM doesn't rewrite history. Visually, the game is similar to the strange and schizofrenic style of "Day of the Tentacle", without exceeding into distortions and perspective styles.
It has a vivid and saturated colouring, with different settings and styles.
The personages' drawing style is changeable, from lightly caricatural to lacking of any anatomical sense.
It is supposed to be similar to some icons of this genre to have an immediate recognizability.
Everyone has his own different character, sometimes hilarious, sometimes ironic.
People who had played to "point and click" games will find the gaming methods and interfaces natural and usable.
Come and try it! And let us know what you think about it!
www.genereAvventura.com

Entry posted on Thursday, August 17th, 2006 at 05:52


Filed under All posts, Announcements


Follow responses to this entry subscribing the RSS 2.0 feed



Leave a Response |

Add a Trackback from your site