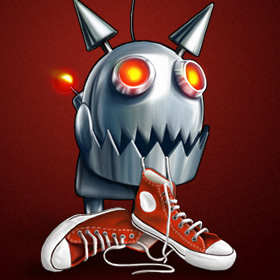 It took almost 8 months, but finally it's out: Paolo, Marco and Federico, three Italian game developers, just released the English version of their first adventure game: The Terrific Menace Of The Invaders From Audiogalaxy. The game is absolutely free and it's playable from their website.
Here is the official communication. Have fun!
The gotoAndPlay() Team

Having spent more than 3 years dedicating our free time to make this game, we proudly present version 1.0, which you can play directly on our website www.genereAvventura.com, now in English too!
General description
The terrific menace of the Invaders from Audiogalaxy (TTM, to name it briefly) is a project which has the purpose of achieving a game in Flash, playable directly via the web, and absolutely free.
It is supposed to have, above all, a complexity and longevity like those relatively early Adventure games that named this genre.
The authors, who loved, and still love, this type of game, wanted to pay homage to those masterpieces, by creating an original and independent story.
Anyway - throughout the game - it refers several times to all those games that had inspired it.
After a first period break, due to some members' personal problems and because of the complexity of creating such a game, our team came back into action, re-thinking the purposes and the specifications of the game; for example the first things we had to eliminate was the possibility of solving some parts of the game without noticing it; in genereAvventura everything had to have a cause and a consequence.
The story
Turin 2010.
How original: an alien spaceship is approaching Earth.
A beam fired from this interstellar craft hits the home of an unassuming boy, abducting him and his computer.
Onboard the spaceship he awakens trapped within a strange sealed transparent cell, destined to unravel the terrific menace before him.
To stop the invading aliens and their musical evil plan (to enslave all humanity of course) our young hero will have to undertake an adventure through time, visiting musical legends in Turin, London, and even the legendary Woodstock!
Technical part
TTM doesn't rewrite history.
Visually, the game is similar to the strange and schizophrenic style of "Day of the Tentacle", without overdoing distortions and perspective styles.
It has a vivid and saturated colouring, with different settings and styles.
The drawing style of the characters is variable, from light caricature to lacking in any anatomical sense.
It is supposed to be similar to some of the classics of this genre And to be easily recognizable.
Every personage has his or her own different character, sometimes hilarious, sometimes ironic.
People who have played "point and click" games will find the gaming methods and interfaces natural and usable.
It's a charming experience!
Start surfing the website: you will discover this adventure, and will make you relive old pleasures.
Continue with the game: it will be familiar to those who played graphic adventures in the Nineties.
Come back to the site: there will be forums and exclusive downloads for you!
Come and try it! And let us know what you think about it!
www.genereAvventura.com

Entry posted on Wednesday, April 4th, 2007 at 07:55


Filed under All posts, Announcements


Follow responses to this entry subscribing the RSS 2.0 feed



Leave a Response |

Add a Trackback from your site