Description
This wonderful adventure game involves navigating an alien-looking character named Alex through many different worlds! You should collect all the gems, weapon ammo, and health hearts as possible! You also must dodge all of the enemies and obstacles in your way to successfully beat each level, such as hedgehogs, spiders, and snowmen!

The controls for this game is pretty clear really. You need to use your left and right arrow keys to move Alex left and right. Use the up arrow to jump, the down arrow to duck, and the spacebar to shoot.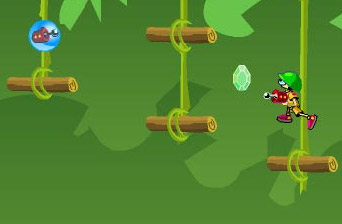 Make sure your character runs or jumps past some enemies or obstacles that get in your way. If you touch any of the moving enemies, you will lose a life and start over from the beginning of the level. The game ends when you lose all your lives. Watch out for those spiders; they can really get in your way! Especially when there are two together!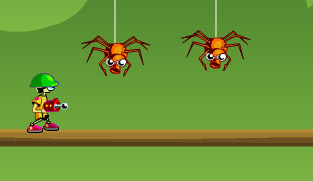 Make sure to go through each level carefully, since you only have three lives! There are many small, moving platforms to many levels, so you will need to force Alex to jump! Get Alex to the top door safely in each level to move on to the next level!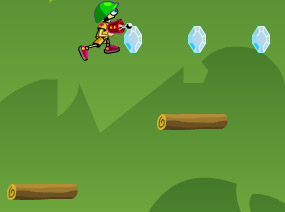 There are many other worlds you can experience in this game! You must complete each world to gain access to new levels with different level environments! You can use the Level Code feature to enter the Level Name to gain access to where you left off in the game!

Also, you may need some important tips in order to beat this game! After playing this game, I suggest you should:

Conserve shots - You don't start off with many shots, and you may need them to get rid of harder enemies. So, just pass the easy enemies in the first couple of levels, and shoot the harder enemies. If you are running out, make sure to collect every weapon ammo circle in the game to stay equipped!

Pickup every gem - If you want to make the highscore list, then I highly suggest you to do this! Every gem is worth a good amount of points, so all the gems will all contribute to a good high score!

Game Analysis

This game is truly a fun action game! There are many great qualities to this game which many gamers can enjoy! Now, let's get into the details of it:

The graphics are excellent! The background environment for each world is very unique and exciting, and it matches with every object in each level! For example, the green background in the Steep Forest world changes into a light color everytime you move your Alex character up, closer to the goal door. The objects, platforms, obstacles, enemies, items, and Alex himself really stick out in the gaming screen to make it shine, and stick out from many action games!

The soundfx is pretty good in most levels! The sound clips really match for each level, making the game cool and exciting to play! But, the background soundfx was too quiet and calm for ,me, as well as other gamers to hear. I had problems hearing the background music for the Steep Forest world myself, because it was a little weak.

The gameplay is great! There is much to do in the game, such as watching out for enemies, moving your character to the top of each level, collecting extra items in each level, jumping on moving platforms, etc. I really enjoy gettin' Alex to move, and gettin' to the top as quickly as possible! And I do agree that it can be a little challenging!

The concept is pretty interesting for many gamers out there. Getting Alex away from other enemies, and venturing through each level may be fun for many. But for some, it can be similar to one of those old Mario games. You have to jump and dodge a whole lot in this game, as well as in the other old Mario games.

This game can be played many times for many gamers. But, it can get boring for a while, since the soundfx is not too strong, each level may be too long and a bit challenging, and just the fact that you lose a life when you get hit once by an enemy.

But overall, this game is action-packed with excitement, enjoyment, and joyful fun! This is definitely another great game by Neodelight! ;)

Neal