Imagine youīd have time to explore the world!
Would be great,wouldnīt it?
Would take ages,wouldnīt it?
Nope,it wouldnīt ,in RunīN`Roll you can do that in no time =)
The game is generally a one on one multiplayergame,no matter if you play against the cpu or a real person over the net, the screen is splitted into two parts and you see yourself on the upper half of the screen and the oponnent on the lower one.
After a small countdown both contenders start running but unlike most jumpīnīrun games they donīt reach new platforms or game areas,instead they run around a small planet.the aim is to run around the planet faster than your opponent to be able to catch him.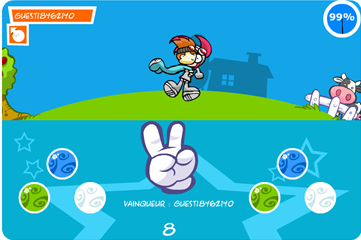 That sounds simple at first and maybe even boring but then there are also the items,which make up for some excitement and funny slapstick moments.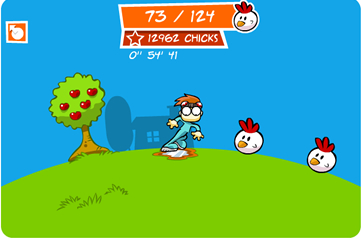 You pick them up by running over them and press space once you want to use them. For example you can pick up a bomb and when your opponent is right behind you,you release it to make it explode in his face.These items give the game the feel of a tomīnījerry chasing toon in which a new slapstick act against enemy might occur every second.
Each of the items leads to its own being hit animation and each is done with love to detail and in a really amusing way.
The characters standard animations could have had some more frames to make them a bit smoother but the backgrounds and general game graphics are too sweet to think about that one flaw too long.
All graphics use a vector art, nowadays known as cell shading in 3d games (heavy outline,two colored filled shapes) cartoony style which fits the theme of the game really well and are a pleasure to look at.
The single player mode is quite fun, but the multiplayer against other humans is of course so much better,especially in the moment you use one of your items and can imagine his feelings (perhaps you know them as he just used his items on you the game before ;) )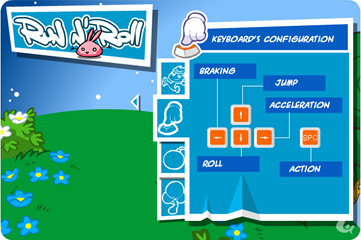 The options menu allows several game modifications,altering the look of your character,setting the controls and adjusting  detail depth for the graphics are just a few.
There are several planets, enemies and items to try out,nevertheless you can see pretty much every part of the game within an hour or two so the lastability in single player mode isnīt that high.
Then again it is ideal for a game in between in a coffee or school break as the average battle doesnīt take long and you can join as fast as you can quit.
Besides that the replay value gets raised a lot by the fact that you can ask your friends to join you for a man against man battle.
The multiplayermode over the net works like a charm,you can choose a planet and see avatars of other players there,then you pick one,press the start button and within less then one minute youīre ready to go.
As the game features constant realtime battle of the opponents,the very smoothly running multiplayermode which had no lag problems during several testruns gets an extra point on the technical merit side (next to several ones on the extending gameplay fun one ;) )
Buckle up,get rollinī with this one =)
tomsamson