It's GO Time!
This is a great action-packed racing game has many great courses in which you will have to venture through to get to the very end! The objective is actually pretty simple! You will have to guide your car, which is literally a "Monster" Truck, through every exciting course in the game!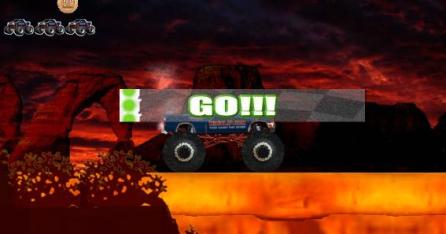 The controls for operating the car is pretty easy as well! You just have to use your ordinary arrow keys on your keyboard to guide your car around the course. Use the Up Arrow to move your car straight, the Down Arrow to move backwards, and the Left/Right Arrow to do tricks and to flip while in the air!
The courses in this game get better and better as you go along through the game! You get to experience different ones each time, while driving over hills, rocks, piles of blocks, and destroyed cars! There are many obstacles like these in every course, and they are for your advantage so you can get some air and do flips! They may also slow down your pace to get to the Exit sign in the course, so you also must finish the course in a good amount of time!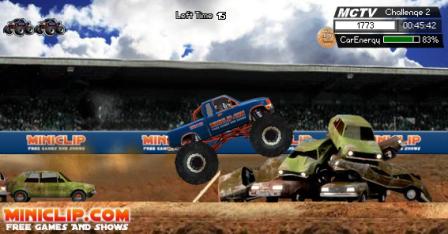 You are also able to use your car to ride or fly over big, yellow buses! You have to pass over a few buses in the course, and you must increase your speed before reaching them to perform mad stunt skills!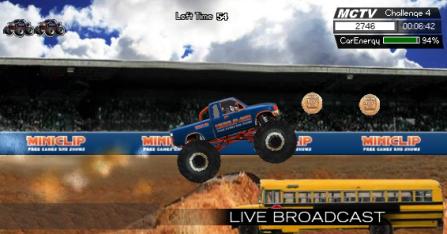 The car that you use is very flexible in movement, so your grip on the car is pretty good! The movement of the car is smooth, and somewhat bumpy as you move it over hills, cars, and piles of blocks! There is a neat feature which you can use to make your ride a lot more smoother, which is the SPIKED wheels! To use this feature, simply hold the CONTROL button on your keyboard to activate it. This way you can get your car up on top of tall hills very easily, and the grip on the ground will be very strong!
As you manage to get through every course, you should see your score building up. It's good to get in the high scores, so you must know how to get it! You will need to make sure to get through each course with a good time, since you are timed for every course. You must also collect all the coins floating in the air in each course as well to make your score go higher! Also, it really does matter if you perform tricks and stunts while moving your car thorugh every course! You will get bonus points for doing so! Also, the score system will score you based on how many lives you have left, and your energy bar for your car! So make sure those two are pretty high, so your score will increase!
What I Think
The game environment for every course in the game is beautiful and realistic, as you can see from the above screenshots! The 3-Dimensional beaten-up cars, your huge, monster-looking car, the big, black-looking wheels, the smoke coming out from the exhaust of the car, the vibrant-looking backgrounds, and the many cars, buses, and other obstacles! Everything comes together into this one beautiful masterpiece; and it feels like you are actually driving the truck in a real-course simulation!
I don't know what to say about the SoundFX... other than that it was pretty awesome! I loved how there were sounds for everything; the engine revving up, the Ready sound beeping at the beginning, the message telling you when you passed Checkpoint, the little explosion sound everytime you collect a coin in the air, and so much more! You gotta love it!
Getting your car around the different courses, and getting it at the end is the best way to play! Especially when you have so many obstacles to overcome, different stunts and tricks to perform, and the many coins to collect in the air! There are many things you can do in the game, and it is fun trying to beat the clock, and to go as fast as you can while as doing tricks and collecting coins! I would have to say that the gameplay is pretty challenging, which makes the game super fun!
The overall concept is pretty easy to understand, and it's very interesting as well! Going through every course as well as performing incredible stunts, collecting coins, and overcoming different kinds of obstacles... I mean, you can't beat that! You probably haven't seen a game like this before... well, I mean any game as good as this!
Last of all, the lastability! I really got to say, this game has been enjoyed by many gamers out there! There are many good aspects about this game which I already mentioned, and I'll say em again! The realistic-ness of the game environment, the beautiful graphics, the incredible soundFX, the challenging gameplay, and the interesting concept! These aspects are what make the game whole!
Before I leave you today, I hope I have interested you in this amazingly detailed game made by Stimunation! I hope you, the reader, will try this game out, and enjoy it! I will definitely look forward for more games from them in the future, and I hope you will too!
Neal