Posted on April 4th, 2007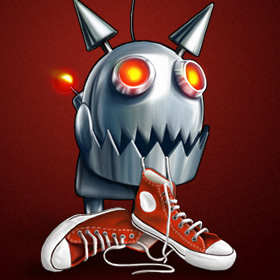 It took almost 8 months, but finally it's out: Paolo, Marco and Federico, three Italian game developers, just released the English version of their first adventure game: The Terrific Menace Of The Invaders From Audiogalaxy. The game is absolutely free and it's playable from their website.
Here is the official communication. Have fun!
The gotoAndPlay() Team

Having spent more than 3 years dedicating our free time to make this game, we proudly present version 1.0, which you can play directly on our website www.genereAvventura.com, now in English too!
General description
The terrific menace of the Invaders from Audiogalaxy (TTM, to name it briefly) is a project which has the purpose of achieving a game in Flash, playable directly via the web, and absolutely free.
It is supposed to have, above all, a complexity and longevity like those relatively early Adventure games that named this genre.
The authors, who loved, and still love, this type of game, wanted to pay homage to those masterpieces, by creating an original and independent story.
Anyway - throughout the game - it refers several times to all those games that had inspired it.
After a first period break, due to some members' personal problems and because of the complexity of creating such a game, our team came back into action, re-thinking the purposes and the specifications of the game; for example the first things we had to eliminate was the possibility of solving some parts of the game without noticing it; in genereAvventura everything had to have a cause and a consequence. Read the rest of this entry »

Filed under All posts, Announcements


This post has no comments